Sonia Sanchez Won the Gish Prize!
Yes! Sonia Sanchez has been awarded the Gish Prize "in recognition of her ongoing achievements in inspiring change through the power of the word." The cash award of the prize amounts to $250,000. Philadelphia Inquirer has more details on this amazing news!
Special Pre-Order Gift Offer for "Collected Poems"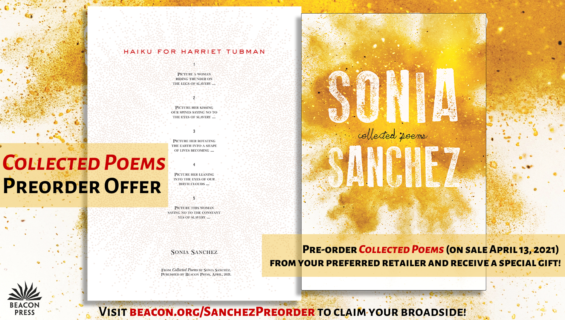 If you pre-order Collected Poems from your favorite retailer by April 13, you're eligible for a special free gift. Upload confirmation of your pre-order and you'll receive a broadside of her poem "Haiku for Harriet Tubman." The first 50 will be signed by Sonia Sanchez! Click here for details on how to enter!
New Book from Sonia Sanchez Coming in April 2021!
The wait is almost over!
This April, Beacon Press is publishing Collected Poems, a representative collection of the life work of the much-honored poet and a founder of the Black Arts Movement, spanning the four decades of her literary career.
Gathering highlights from all of Sonia Sanchez's poetry, this compilation is sure to inspire love and community engagement among her legions of fans. Beginning with her earliest work, including poems from her first volume, Homecoming (1969), through to 2019, the poet has collected her favorite work in all forms of verse, from Haiku to excerpts from book-length narratives. Her lifelong dedication to the causes of Black liberation, social equality, and women's rights is evident throughout, as is her special attention to youth in poems addressed to children and young adults.
Just in time for National Poetry Month!
And without further ado, we unveil the cover art!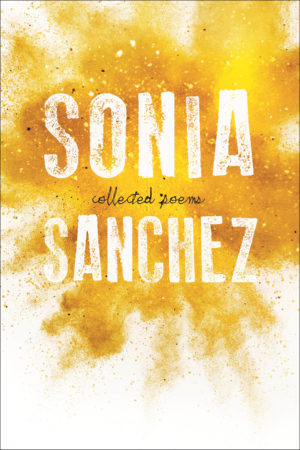 Sonia Sanchez talks about how the book "Little Women" inspired her
"I identified with Jo, the main character in Little Women, because not only was she independent but she also wanted to be a writer."
Read more in the New York Times.
Sonia Sanchez receiving Anisfield-Wolf Lifetime Achievement award
For more information, visit the Cleveland Book Week website and the official Lifetime Achievement Award announcement
Sonia Sanchez pays tribute to Toni Morrison
Sonia Sanchez Receives the Wallace Stevens Award!
Sonia Sanchez received the Wallace Steven Award this year! Established in 1994, the Wallace Steven Award is given each year to recognize outstanding and proven mastery in the art of poetry. Poets receive a $100,000 stipend and are chosen by the Academy of American Poets Board of Chancellors. She joins past winners John Ashbery, Yusef Komunyakaa, and Adrienne Rich in this incredible honor. Read more here.
"BaddDDD Sonia Sanchez" Documentary is Nominated for an Emmy!
POV (Point of View), American television's longest-running independent documentary series on PBS, has received 12 nominations for the 2017 News & Documentary Emmy® Awards, announced today by the National Academy of Television Arts & Sciences. POV's sister-series America ReFramed, which airs on WORLD Channel, also received two nominations for its films The Hand That Feeds and BaddDDD Sonia Sanchez. Read more here.
National Poetry Day: "Morning Song and Evening Walk"
In honor of National Poetry Day, enjoy this poem Sonia wrote in honor of Dr. Martin Luther King, Jr.

Morning Song and Evening Walk
1.
Tonite in need of you
and God
I move imperfect
through this ancient city.
Quiet. No one hears
No one feels the tears
of multitudes.
The silence thickens
I have lost the shore
of your kind seasons
who will hear my voice
nasal against distinguished
actors.
O I am tired
of voices without sound
I will rest on this ground
full of mass hymns.
2.
You have been here since I can remember Martin
from Selma to Montgomery from Watts to Chicago
from Nobel Peace Prize to Memphis, Tennessee.
Unmoved along the angles and corners
of aristocratic confusion.
It was a time to be born
forced forward a time
to wander inside drums
the good times with eyes like stars
and soldiers without medals or weapons
but honor, yes.
And you told us: the storm is rising against the
privileged minority of the earth, from which there is no
shelter in isolation or armament
and you told us: the storm will
not abate until a just distribution of the fruits of
the earth enables men (and women) everywhere to live
in dignity and human decency.
3.
All summerlong it has rained
and the water rises in our throats
and all that we sing is rumored
forgotten.
Whom shall we call when this song comes of age?
And they came into the city carrying their fastings
in their eyes and the young 9-year-old Sudanese
boy said, "I want something to eat at nite a
place to sleep."
And they came into the city hands salivating guns,
and the young 9-year-old words snapped red
with vowels:
Mama mama Auntie auntie I dead I dead I deaddddd.
4.
In our city of lost alphabets
where only our eyes strengthen the children
you spoke like Peter like John
you fisherman of tongues
untangling our wings
you inaugurated iron for our masks
exiled no one with your touch
and we felt the thunder in your hands.
We are soldiers in the army
we have to fight, although we have to cry.
We have to hold up the freedom banners
we have to hold it up until we die.
And you said we must keep going and we became
small miracles, pushed the wind down, entered
the slow bloodstream of America
surrounded streets and "reconcentradas," tuned
our legs against Olympic politicians elaborate cadavers
growing fat underneath western hats.
And we scraped the rust from old laws
went floor by floor window by window
and clean faces rose from the dust
became new brides and bridegrooms among change
men and women coming for their inheritance.
And you challenged us to catch up with our
own breaths to breathe in Latinos Asians Native Americans
Whites Blacks Gays Lesbians Muslims and Jews, to gather
up our rainbow-colored skins in peace and racial justice
as we try to answer your long-ago question: Is there
a nonviolent peacemaking army that can shut down
the Pentagon?
And you challenged us to breathe in Bernard Haring's words:
the materialistic growth–mania for
more and more production and more
and more markets for selling unnecessary
and even damaging products is a
sin against the generation to come
what shall we leave to them:
rubbish, atomic weapons numerous
enough to make the earth
uninhabitable, a poisoned
atmosphere, polluted water?

5.
"Love in practice is a harsh and dreadful
thing compared to love in dreams," said a Russian writer.
Now I know at great cost Martin that as we burn
something moves out of the flames
(call it spirit or apparition)
till no fire or body or ash remain
we breathe out and smell the world again
Aye-Aye-Aye Ayo-Ayo-Ayo Ayeee-Ayeee-Ayeee
Amen men men men Awoman woman woman woman
Men men men Woman woman woman
Men men Woman woman
Men Woman
Womanmen.
Sanchez, Sonia. "Morning Song and Evening Walk." Shake Loose My Skin: New and Collected Poems. Boston: Beacon Press, 1999. Please do not distribute this work without permission. You may submit requests to reprint the work of Sonia Sanchez from titles published by Beacon Press through its website.
Happy Birthday, Sister Sonia Sanchez!
By Nicholas DiSabatino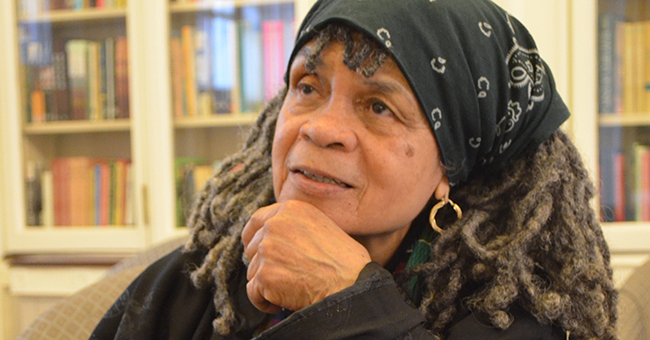 Dear Sister Sonia:
We've never met in person, yet we've spoken on the phone dozens of occasions since I joined Beacon Press back in 2012. I've been so blessed to work with you as your publicist these past few years. It's a strange feeling to "know" someone only via the phone. I feel in some ways like we're long distance pen pals, even though you're only in Philadelphia and I'm in Boston. I've come to expect that particular warmth in your voice whenever we speak and I hear that familiar "Brother Nicholas, any calls?" from you. It's part of who you are as a person and an artist.
You have lived countless lives and filled numerous roles: poet, playwright, teacher, activist, mother, friend, and one of the foremost leaders of the Black Arts Movement in the 1970s. You came to Beacon Press in 1995 and granted us the privilege of working with you through some of your best work: Wounded in the House of a Friend, Does Your House Have Lions?, Like the Singing Coming Off the Drums: Love Poems, Shake Loose My Skin, and Morning Haiku. You've been awarded for your artistry, education, and activism, named the Poet Laureate of Philadelphia, and even been made the subject of a documentary, BaddDDD Sonia Sanchez.
For me, though, you'll always be Sister Sonia, the woman who recommended I put tiger balm on my chest to clear up my sinus infection, who sent me a handwritten note and gift on the occasion of my wedding last year, and who always wants to know how I'm feeling as we discuss upcoming media and event opportunities over the phone.
On this your birthday, I wish you many happy returns, and thank you for the wonderful spark you've brought to this world through your writing, activism, teaching, and compassion.
You are a remarkable "BaddDDD" woman.
Yours truly,
Brother Nicholas DiSabatino
---
About the Author
Nicholas DiSabatino, publicist, graduated from Kent State University and has an MA in Publishing and Writing from Emerson College. He joined Beacon in 2012.