Collected Poems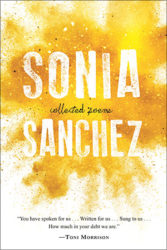 A representative collection of the life work of the much-honored poet and a founder of the Black Arts movement, spanning the 4 decades of her literary career.
Gathering highlights from all of Sonia Sanchez's poetry, this compilation is sure to inspire love and community engagement among her legions of fans. Beginning with her earliest work, including poems from her first volume, Homecoming (1969), through to 2019, the poet has collected her favorite work in all forms of verse, from Haiku to excerpts from book-length narratives. Her lifelong dedication to the causes of Black liberation, social equality, and women's rights is evident throughout, as is her special attention to youth in poems addressed to children and young adults.
As Maya Angelou so aptly put it: "Sonia Sanchez is a lion in literature's forest. When she writes she roars, and when she sleeps other creatures walk gingerly."
Available from:
Bookshop.org, Indiebound, Barnes & Noble, Beacon Press, Amazon
I'm Black When I'm Singing, I'm Blue When I Ain't and Other Plays
This collection brings together for the first time the plays of Sonia Sanchez, a prolific, award-winning poet and one of the most prominent writers in the Black Arts movement. In addition to Sanchez's five previously published plays The Bronx Is Next (1970), Dirty Hearts (1971), Sister Son/ji (1972), Malcolm/Man Don't Live Here No Mo (1979) Uh, Uh; But How Do It Free Us? (1975), and , the collection also includes her two unpublished plays, I'm Black When I'm Singing, I'm Blue When I Ain't (1982) and 2 x 2 (2009). It reveals the thematic and formal exchanges between Sanchez's poetry and dramatic works over the course of four decades. Sanchez emerged as a black nationalist poet and playwright in the late 1960s and early 1970s. Like her poetry, her dramas reflect her critique of the racism and sexism that she encountered as a young female writer in the black militant community, her ongoing concern with the well-being of the black community, and her commitment to social justice. I'm Black When I'm Singing, I'm Blue When I Ain't and Other Plays includes three essays in which Sanchez reflects on her art and activism, and an introduction by Jacqueline Wood situating Sanchez's plays in relation to her poetry, activism, and the feminist dramatic voice in black revolutionary art.
"Sonia Sanchez remains one of the most read, respected, and visible figures of the Black Arts Movement, as well as its most significant female figure. This volume only adds to that legacy."—Amiri Baraka
"These seven plays by Sonia Sanchez form an emotional and historic bridge from the loud revolutionary power of the 1960s and the twentieth century to the more insidious and subtle challenges of this first decade of the twenty-first. Their power lies in their ability to present super/real snapshots of their time and circumstance with the mystic clarity that mixing poetry and drama can create. From The Bronx Is Next, where Brothers prepare to burn down Harlem tenements, to 2 X 2, where Beverly and Ramona Smith find one another, Sonia's persistent call to Blacks—and especially to women—is to find the strength to assemble our ghosts and demons, confront them, and lay them to rest. The plays are startling and open us to a Sonia Sanchez whose vision can see the world as stage, or, perhaps, stage as the world."—Charles Fuller
"Poet Sonia Sanchez deserves a Nobel for her lyrical representation and advocacy of the universal black woman."—Ed Bullins
"Whether I encounter Sonia in poetry, prose, or drama, I am always struck by the fearlessness of her intellect, the effortless musicality of her language, and her commitment to putting these gifts—always—in service of the Struggle. I rejoice for those who, through this book, will encounter Sonia for the first time."—Ruby Dee
Hope is an Open Window (Single)
"Hope is an Open Window" by Diana Ross, from the album Every Day is a New Day, featuring Sonia Sanchez. (preview track)
Humbled (single)
"Humbled" by Ursula Rucker, from the album Ma'at Mama, featuring Sonia Sanchez. (preview track)
I Been Keepin' Company with the Layaway Man (Single)
"I Been Keepin' Company with the Layaway Man" by Monnette Sudler from the album Meeting of the Spirits, featuring Sonia Sanchez. (preview track)
In My Own Way (Single)
"In My Own Way" by Monnette Sudler, from the album Meeting of the Spirits, featuring Sonia Sanchez. (preview track)
Everything Man (Single)
Everything Man by Talib Kweli from the album Eardrum, featuring Sonia Sanchez and Res. (preview track)
Morning Haiku
This new volume by the much-loved poet Sonia Sanchez, her first in over a decade, is music to the ears: a collection of haiku that celebrates the gifts of life and mourns the deaths of revered African American figures in the worlds of music, literature, art, and activism. In her verses, we hear the sounds of Max Roach "exploding in the universe," the "blue hallelujahs" of the Philadelphia Murals, and the voice of Odetta "thundering out of the earth." Sanchez sings the praises of contemporaries whose poetic alchemy turns "words into gems": Maya Angelou, Richard Long, and Toni Morrison. And she pays homage to peace workers and civil rights activists from Rosa Parks and Congresswoman Shirley Chisholm to Brother Damu, founder of the National Black Environmental Justice Network. Often arranged in strings of twelve or more, the haiku flow one into the other in a steady song of commemoration. Sometimes deceptively simple, her lyrics hold a very powerful load of emotion and meaning.
There are intimate verses here for family and friends, verses of profound loss and silence, of courage and resilience. Sanchez is innovative, composing haiku in new forms, including a section of moving two-line poems that reflect on the long wake of 9/11. In a brief and personal opening essay, the poet explains her deep appreciation for haiku as an art form. With its touching portraits and by turns uplifting and heartbreaking lyrics, Morning Haiku contains some of Sanchez's freshest, most poignant work.
"Sanchez's haiku is as simple and clear as breathing, but with everything that brings energy and vivacity to being alive." —Rain Taxi Review of Books
Full Moon of Sonia
"Full Moon of Sonia" is a celebration of the life and work of a cultural icon and national treasure of Sonia Sanchez, affectionately and deservedly known as the "Poet Laureate of the Planet." It fuses a wide range of musical styles with the poetry of Sonia Sanchez in a groundbreaking CD that underscores Sanchez's contribution to poetry and performance in the 20th century. Further, her unique performance style serves as a reminder of her impact on the oral tradition in African-American literature.
Her influence is far-reaching and wide ranging and can be heard in such artists as Mos Def, Jill Scott, Talib, Rakin, to name a few. She has been a guest artist on albums with greats such as Diana Ross and has collaborated with such artists as Eric Benet. Her latest album, the first in 25 years, reflects a diverse offering of musical and poetic styles that spans R&B, Jazz, Afro-Cuban, Gospel, and Hip-Hop. This breakthrough CD marks a new plateau in a career that stretches over four decades. On this CD, Ms. Sanchez has assembled some of the finest composers, musicians, and vocalists working in music today.
Track Listing
A Sun Lady for All Seasons Reads Her Poetry
The first spoken word album from Sonia Sanchez.
Track Listing