Collected Poems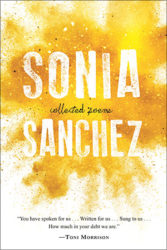 A representative collection of the life work of the much-honored poet and a founder of the Black Arts movement, spanning the 4 decades of her literary career.
Gathering highlights from all of Sonia Sanchez's poetry, this compilation is sure to inspire love and community engagement among her legions of fans. Beginning with her earliest work, including poems from her first volume, Homecoming (1969), through to 2019, the poet has collected her favorite work in all forms of verse, from Haiku to excerpts from book-length narratives. Her lifelong dedication to the causes of Black liberation, social equality, and women's rights is evident throughout, as is her special attention to youth in poems addressed to children and young adults.
As Maya Angelou so aptly put it: "Sonia Sanchez is a lion in literature's forest. When she writes she roars, and when she sleeps other creatures walk gingerly."
Available from:
Bookshop.org, Indiebound, Barnes & Noble, Beacon Press, Amazon
Morning Haiku
This new volume by the much-loved poet Sonia Sanchez, her first in over a decade, is music to the ears: a collection of haiku that celebrates the gifts of life and mourns the deaths of revered African American figures in the worlds of music, literature, art, and activism. In her verses, we hear the sounds of Max Roach "exploding in the universe," the "blue hallelujahs" of the Philadelphia Murals, and the voice of Odetta "thundering out of the earth." Sanchez sings the praises of contemporaries whose poetic alchemy turns "words into gems": Maya Angelou, Richard Long, and Toni Morrison. And she pays homage to peace workers and civil rights activists from Rosa Parks and Congresswoman Shirley Chisholm to Brother Damu, founder of the National Black Environmental Justice Network. Often arranged in strings of twelve or more, the haiku flow one into the other in a steady song of commemoration. Sometimes deceptively simple, her lyrics hold a very powerful load of emotion and meaning.
There are intimate verses here for family and friends, verses of profound loss and silence, of courage and resilience. Sanchez is innovative, composing haiku in new forms, including a section of moving two-line poems that reflect on the long wake of 9/11. In a brief and personal opening essay, the poet explains her deep appreciation for haiku as an art form. With its touching portraits and by turns uplifting and heartbreaking lyrics, Morning Haiku contains some of Sanchez's freshest, most poignant work.
"Sanchez's haiku is as simple and clear as breathing, but with everything that brings energy and vivacity to being alive." —Rain Taxi Review of Books
Under a Soprano Sky
Under a Soprano Sky is no longer in print.
I've Been a Woman: New and Selected Poems
The author of several books of poetry, Sanchez' I've Been A Woman is the dynamic transcendental female voice of one of the finest poets of our time. Includes "Black Magic: Blk Rhetoric" and "Blues."
Autumn Blues: New Poems
Autumn Blues is no longer in print.
Continuous Fire: A Collection of Poetry
Continuous Fire is no longer in print.
A Blues Book for a Blue Black Magic Woman
A Blues Book for a Blue Black Magic Woman is no longer in print.
Love Poems
Love Poems is no longer in print.
We a BaddDDD People
We a BaddDDD People is no longer in print.
Home Coming
Home Coming is no longer in print.